The 2016 chapter of Stephen Ettinger's mountain bike career came to a close with a victory at the Canada Cup XC in Whistler over a week ago. Since then, the Bellingham, WA resident has taken some time to reflect back on what was a roller coaster season. When asked to sum up his season in one word, there was little hesitation.
"Emotional," said Ettinger. "It wasn't the best season I've ever had, but it was a good season. It's been one that had a lot of highs and a few lows - some of those coming right on the backs of one another."
Rewind to early March when Ettinger, lining up for his first race under the Ridebiker Alliance banner, scored a disappointing ninth in his season opener at the Bear Mountain Canada Cup. A week later Ettinger was able to turn the tide with a solo and dominating win at Bonelli Park #1.
Several weeks later and all within a month's time, Ettinger traveled to three different continents in April. He claimed a hard fought bronze medal at the Pan American Championships in Catamarca, Argentina. Following the podium presentation, Ettinger and the rest of Team USA hopped a plane back to the United States for Bonelli Park #2 and the Sea Otter Classic. After a long round of travel, Ettinger could only muster an uncharacteristic seventh place in SoCal. A week later up at the Laguna Seca Raceway, Ettinger put together a pair of third place finishes in the short track and cross country races. And before the dust had settled, Ettinger had his bikes packed and was on a plane to the land Down Under where he netted a satisfying top 20 at the Cairns World Cup.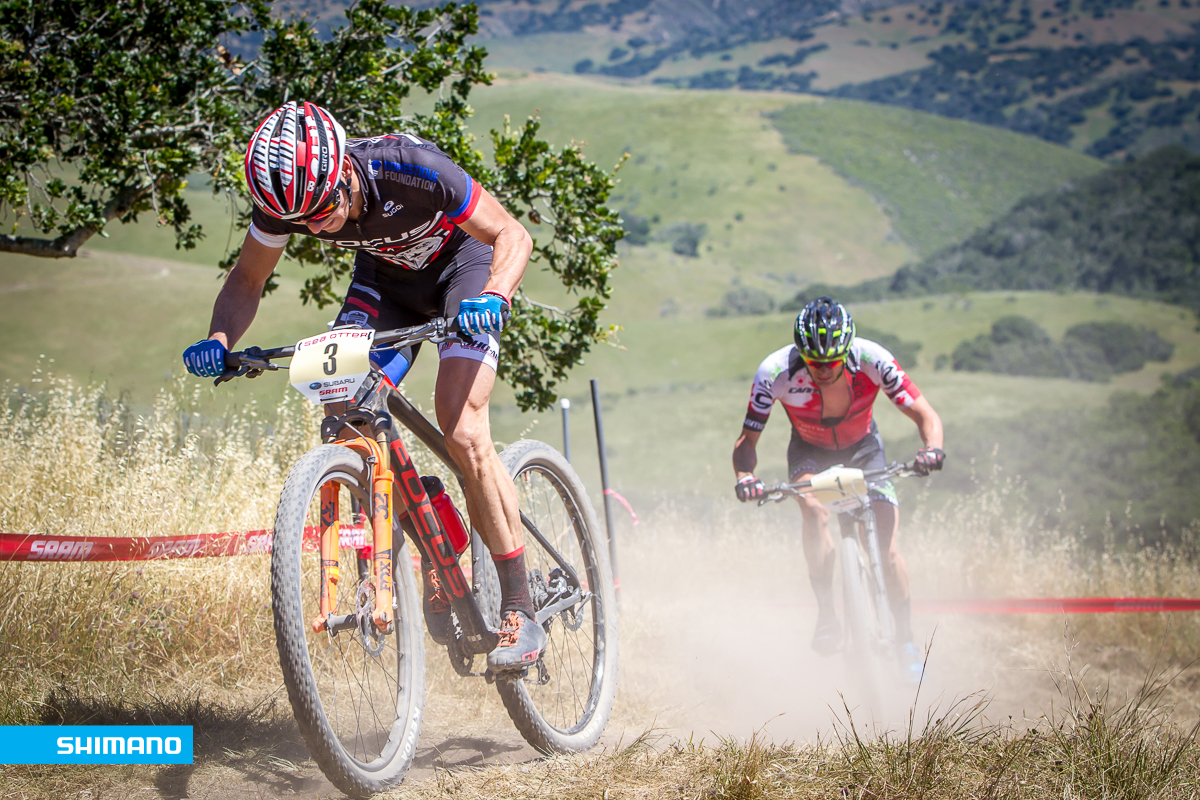 After a month away from racing, Ettinger was back on a plane to Europe for the Albstadt and La Bresse World Cups in May. Stomach cramps put a damper on the race in Germany and three flats plagued the French race. Ettinger returned to the United States feeling unfulfilled and needing time at home to re-cooperate after going full gas for months.
"There were races where I was racing in top 15 at World Cups only to have defeat snatched from the hands of victory," said Ettinger.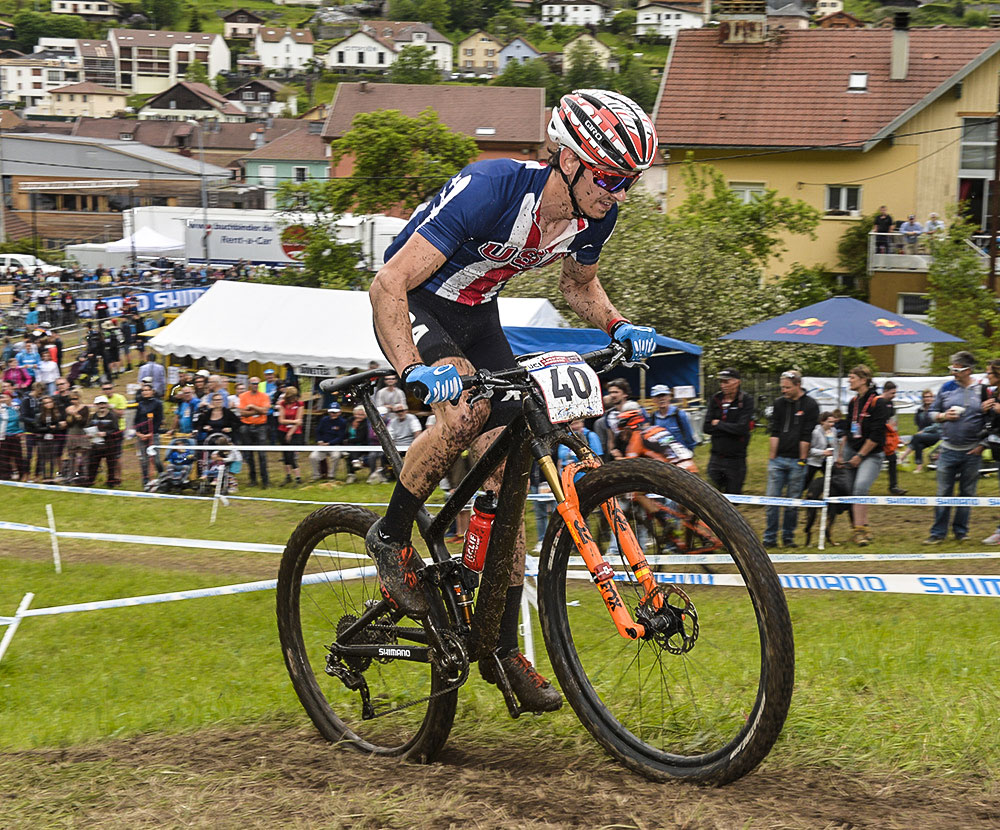 It wasn't even June yet and the 27-year old had already traveled to three continents outside the United States. If there was anything Ettinger learned this year, it was how much back and forth travel can wear a person down.
"I've had years where I've spent a lot of time away from home but never where I've done so much back and forth as I did this year," Ettinger said. "I really think that over the course of the season that had an impact on my ability to race and recovery and mentally be ready to go. In the future I really need to pay attention to the number of commitments I have and the number of race days I have on the calendar. I'd like to do more racing, not less, but I have to figure out how to do that without so much back and forth travel. The effects of that really accumulated for me this year."
After some down time at home in Washington, Ettinger swung through Montana in June to race near in his old stomping grounds at the Missoula XC. In front of friends and family, the former Montana State University student scored two top fives in the short track and cross country races.
Then the devastating news that Ettinger would not be going to Rio came. Ettinger tried to reconcile the decision, but it was hard to come to terms with USA Cycling's undermining selection.
A week after learning that he was a non-selection for Rio, Ettinger tried to put it behind him ahead of the World Championships in Nové Město. Ettinger was stoked to race on an engaging and familiar track in Czech. He wanted to have fun and go fast in front of the rowdy and noisy crowd that lined the course, but the travel and the emotional roller coaster Ettinger had been riding proved to be too much to handle on the day as crossed the line in 50th.
"It was good to rebound from a really frustrating season last year," Ettinger said. "But some of my goals of the year weren't met. Some of that rests on my shoulders, some of that were circumstances that I was unable to control. There were some races that were really motivated to get to the starting line for."
Knowing that he needed to take a different approach for the second half of the season, Ettinger added a couple 'firsts' to his schedule in July – the seven-day BC Bike Race and the five-day Cascade Cycling Classic with the US MTB National Championships squished in between.
The BC Bike Race proved to be just what Ettinger needed to get back to having fun racing his bike again. He finished third overall and enjoyed the grass roots, authentic feel of the race. The national championships, held in the high environs of Mammoth, CA, were never a huge goal for the sea-level resident. Feeling content with fifth in the cross country race, Ettinger exchanged his fat tires for skinny ones as he took on domestique duties with Rally Cycling in Bend, OR. Racing a stage race at that level was an entirely new experience for the accomplished mountain biker, and, like BC Bike Race, it was an experience that gave him inspiration and motivation for the final push of the season.
Ready to get back on his Focus O1E dually, Ettinger flew clear across the country from Oregon to line up for the Boston Rebellion, the final race of the US Cup. Ettinger's fourth place in the cross country race landed him on top of the leader board for the overall win. Along with it came the coveted heavy weight belt that will most likely be seen on a wall at his home in Bellingham.
Road tripping with his longtime mechanic, Daimeon Shanks, from Massachusetts to Canada, Ettinger and Daimo enjoyed a final hoorah together at the iconic Mont-Sainte-Anne World Cup. Ettinger finished 26th on the day, not his worst or his best World Cup result, and had a great time on a fun course in front of an enthusiastic crowd. More importantly, it was the end of a chapter for the duo who had been working together for five years. After thirteen years in the business, Daimo was closing shop to plunge himself headfirst into law school.
To wrap up the season, Ettinger drove the few hours from Bellingham to Whistler to race in the final Canada Cup. Determined to end the season on a high note, Ettinger did just that when he put himself on the top step of the podium to bring the mountain bike season to a close.
It was a season full of emotion. Cycling can be cruel that way. Yet Ettinger still considers it a success thanks in large part to his support network and his sponsors.
"Not all the boxes were checked and the big one I wasn't able to fulfill," said Ettinger. "I'm looking forward and I'm excited to keeping the momentum that I got going this year into the future and do some fun racing next summer. It has been a fun year despite being frustrating at times. There were other moments that were really inspiring. I walk away appreciating what I have and the opportunity that I get to do what I love. It was fun to make an impact this year."
"I did some races this year without Daimo around, which made me realize how strong the support network is that I have built up around the country," Ettinger continued. "I realize now how many people there are willing to help make the little things go smoother for me so that I can race at my best. Knowing that I have all those people around is really confidence inspiring for me going forward. Having those people around is huge, and I really appreciate all that people did in lending a hand to help make the season a success."
But the year wouldn't be complete without a foray into more uncharted territory. Cyclocross. Living in the Pacific Northwest, it only makes sense that the mountain biker takes his skills and fitness to some of the best cyclocross tracks in the country.
"I want to have fun racing 'cross," Ettinger said. "I want to mix it up and challenge myself on new courses. I want to learn a new part of the sport just as I did racing with Rally on the road this summer and BC Bike Race. I want to figure out another side of the sport that I haven't spent much time in."
With no pressure on his shoulders to crush the 'cross scene, Ettinger will keep a loose schedule so that he has time to take it all in during the winter months.
"I don't have grand ambitions in terms of results," Ettinger stated. "I don't know my schedule really. I'll race a lot in the PNW, and hopefully get out to a few UCI races as well. I'll try to be competitive, but I also want to have a lot of fun. I hope that what I do this winter can translate to a better year next year on the mountain bike."
"I'm excited to be racing locally a bit because it will give me a good platform to talk about Ridebiker Alliance," continued Ettinger. "Racing 'cross in the PNW will give me the opportunity to reconnect with people I grew up around and haven't seen much lately. It'll be fun to talk to them about what I'm doing and how Ridebiker can be a stronger part of the community in the Northwest."
For the 'cross season, Ettinger is excited to hop aboard a Focus Mares fully equipped with Shimano components. The Giro lid with Clifbar graphics will continue to sit prominently atop his head.
As the mountain bike season fades into the past, erasing some of the hardships and highlighting the victories, and the unknowns and excitement of the 'cross season loom, Ettinger is steadfast in keeping a bright outlook on the future.
"It's one of the cool things about bike racing, you get to do it all again next year and try to do it better than the year before."