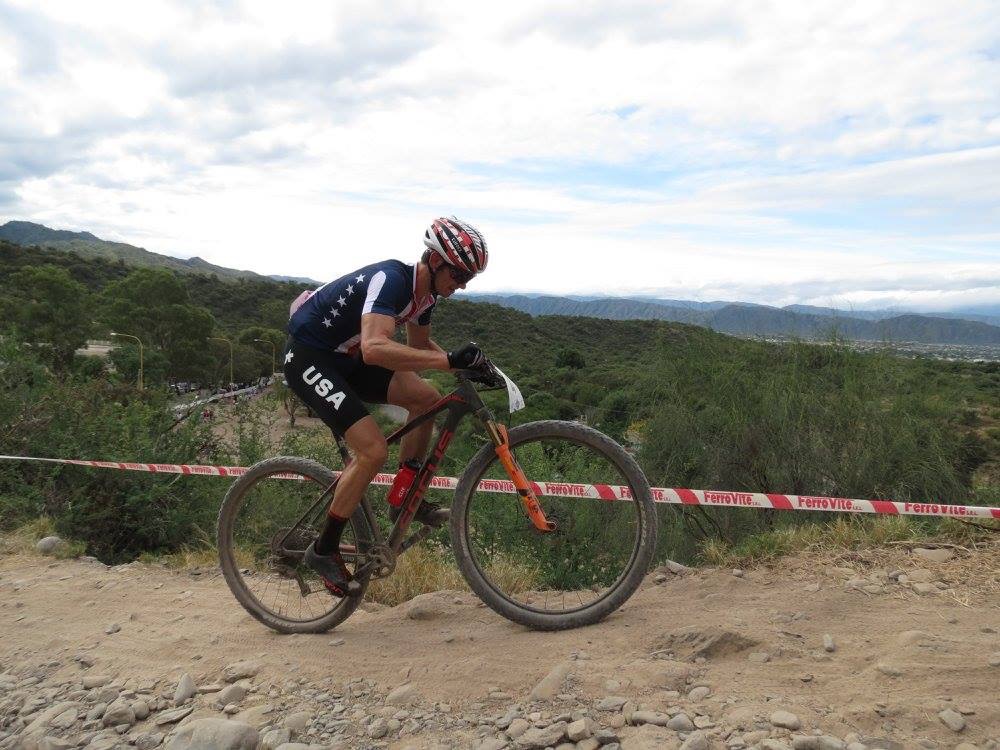 On a tough track in Catamarca, Argentina, Stephen Ettinger would have to settle for a bronze medal at the Pan American Continental Mountain Bike Championships after a tight six-lap battle with Brazilian Henrique Avancini for second place. The gold medal winner, Argentinean Catriel Soto, distanced his compatriots from the gun to solo across the line with no one else in sight.
Ettinger traveled to Argentina hoping to score his second win at the Pan Am Championships, but Soto had a different plan in mind for the determined American and the rest of the field.
"I knew that I could win, but it was a matter if all the pieces of the puzzle would come together," said Ettinger. "Soto was really on a mission. There was nothing that we could do to stop him. We were racing for second."
Soto, the silver medalist at the 2015 Pan American Games, left nothing to chance on a day when two former Pan Am Championship winners, Ettinger and Avancini, were toeing the line with him. Taking the hole shot, Soto lead from the start and was never to be seen again.
"At first I thought he would go out hard and then come back," said Ettinger. "Soto likes to go out really hard and then pops – even at world cups. When he took off I thought patience will pay off here, but in the end he was on a mission."
Behind Soto the race for second took shape as Ettinger and Avancini separated themselves from the rest of the field by the beginning of the second lap. It was America vs. Brazil going mano a mano until the Cannondale Factory Team rider was able to shake Ettinger during the fifth lap.
"Part of the way through lap five, I bobbled a bit on the descent and he got a 10 second gap," Ettinger said. "That's where it stayed the rest of the day. We were a stones throw away from one another - he didn't have the gas to accelerate away from me and I didn't have the gas to catch him."
Ettinger, always the optimist, didn't leave Argentina disappointed.
"I wanted to win, but I'm happy being on the podium," said Ettinger. "Both of these guys were quite a bit better than me in 2015. I was riding as fast as they were in 2013 and 2014, but Avancini was phenomenally fast last year. It feels good to be back racing with him. He hasn't gotten any slower, I just think I've stepped up my game this year."
Ettinger admitted that he could have taken more risks that might have put him in a better position in the end, but taking risks on an unrelenting and arduous course ahead of two HC races and a world cup to come in April was not an option for him.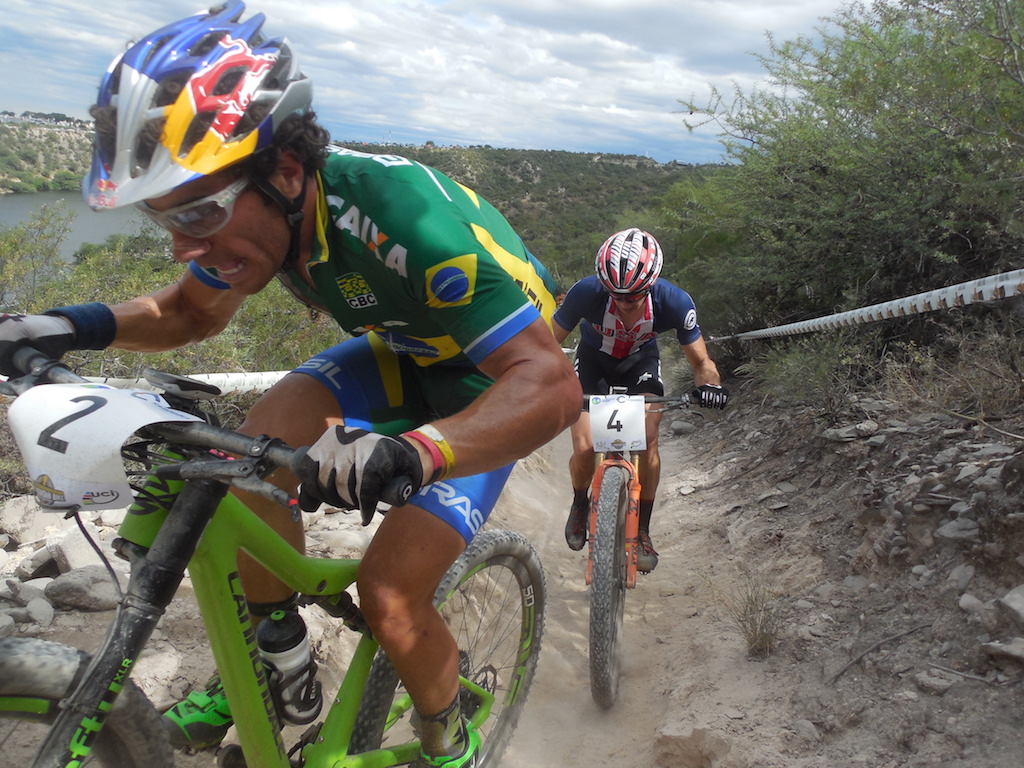 "The course was unrelenting," Ettinger said. "It was one of the hardest courses I've raced on in a long time. It was one of the harder days I've had on a bike in awhile. There was nowhere to rest. It was bumpy, loose and rocky. There weren't any big technical features, but the fact that it was as lose and rocky and blown out as it was meant you had to be focused the whole time otherwise you would find yourself laying in the dirt."
"I could have come down here and taken more risks and pushed a little harder," continued Ettinger. "The goal was to redeem myself, get some points and test the fitness, and I did that. To have crashed or gotten sick would have been a real bummer and put a damper on three really big weeks coming up."
In 2015 Ettinger was not able to fit the pieces of the puzzle together as tightly as he wanted. So far in 2016, Ettinger seems to have found the right fit. The race in Argentina was a testament to that. For now, he is right where he wants to be.
"It feels good to be riding fast," said Ettinger. "We don't get to race against the South Americans in the States. They are at the end of their summer season, so they are going really fast right now. This was a good gauge to know where I am."
"I accomplished what I needed to accomplish here," Ettinger added. "It would have been awesome to take a win, but it's all good. I'm satisfied."
Once home from Argentina, Ettinger will have barely enough time to repack fresh race kit before hitting the road again for Bonelli Park #2 on April 9th. Ettinger proved his mettle and fitness at the first round in San Dimas, California a month ago. Will the second round be a case of déjà vu?