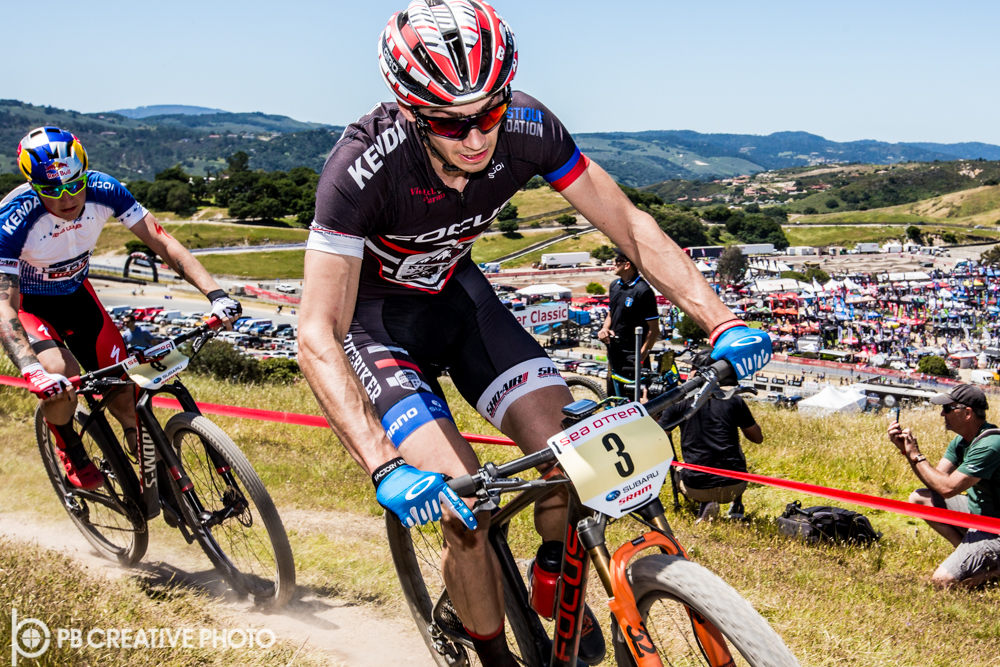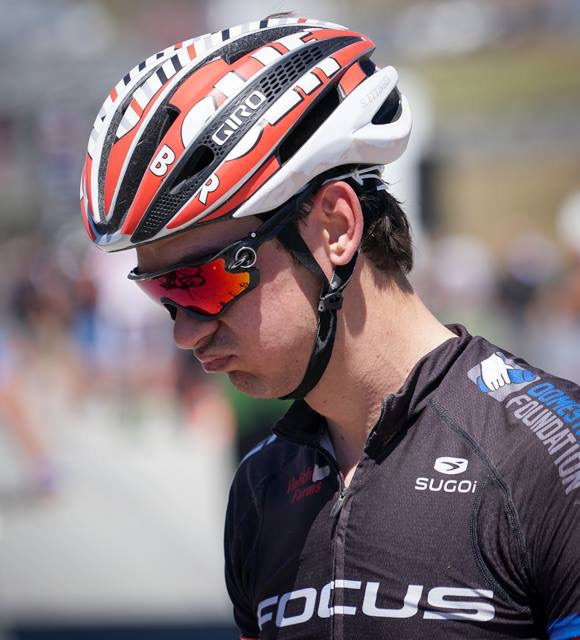 On a hot and dusty track under a sun drenched sky at the Sea Otter Classic, Stephen Ettinger earned himself two trips to the podium with third place finishes in both the short track and cross country races. Canadian Geoff Kabush (Scott 3Rox) and Dane Simon Andreassen (Specialized Factory Racing) adorned the top two steps in the fast and tactical short track race on Friday. Saturday's cross country race shook up the podium with Todd Wells (SRAM/Troy Lee Designs) taking over the top step and Czech rider Nicola Rohrbach (Goldwurst-Power/Felt) standing atop the second step.
Like the short track race, the eight-lap cross country started off fast and tactical. Positioning was key on a track that was dusty and blown-out.
"It was really tactical for the first couple of laps," said Ettinger. "It was important to be in the right spot. I tried not to burn any extra matches. I saw Kabush sitting back and thought 'maybe I should be out of the wind a little more'. But then we'd get into the singletrack with off-camber corners where one person would come out of a pedal and everything behind would slow up. I decided that using a little energy to stay up front was a better decision."
The Ridebiker Alliance rider's decision to ride near the front proved to be the right one as the field was reduced from a group of 20 riders to 11 and then to four after three laps of racing. Riding smart and fast Ettinger found himself at the front of the race along with Rohrbach, Wells and Canadian Raphael Gagne (Cannondale 360 Fly/Sugoi).
"When it broke up and there were only four of us, I thought, 'I'm glad I made the selection'," Ettinger said. "Then it was about putting the head down and getting it done in the middle of the race. I think we worked well together, but everyone was looking at Gagne because he's been riding so well. He kept acting like he was tired, but then Nico attacked with three to go and Raph wasn't able to stick it."
With two laps to go, the trio kept riding hard to keep the chase group at a safe distance. On the last lap the three riders continued to work together with only Rohrbach making any real attempts to get away. Unable to create a separation, the race came down to a tactical sprint into a headwind finish.
"On the last lap Nico went to the front and attacked at the top of the climb," said Ettinger. "He put in some digs but nothing stuck. There was really no good place to attack on the course. You could force some gaps on the technical stuff, but if you attacked on the climb you were in a headwind by yourself."
"In the end it was the three of us together," Ettinger added. "I was sitting second wheel in the final few chicanes. Todd tried to attack on the outside and then he and Nico got tangled up and almost went down. I sat back and said, 'be calm, be calm, be calm'. I thought being third wheel would be a good place to be sprinting into a headwind, but I underestimated how well they could sprint."
With two third places finishes and more UCI points in his back pocket, Ettinger is happy with his results.
"When you're at the front it's easy to say 'I'm not happy, I should have won'," said Ettinger. "But this is the best cross country result I've had at Sea Otter. I rode a really good race – I did what I needed to do."
There to witness his best Sea Otter result was Ettinger's mom and dad who made their annual pilgrimage to Monterey to watch their son race.
"Sea Otter is the first big race I ever did," said Ettinger. "I road tripped down with my dad when I was 14. I barely survived the Junior expert race. To have gone from that to now being on the podium at the pro men's race is cool. And my dad has been here for every one of them."
With Sea Otter in the books, Ettinger is looking forward to hopping a plane on Sunday to land Down Under for the first World Cup of the season.
"I raced with the #3 plate here so I can say I was consistent all around," Ettinger said. "But the big prize is in Cairns, Australia next week. That's the one that will really count."